Next Concert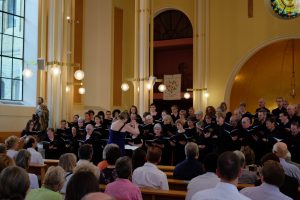 The choir has suspended concerts and physical rehearsals for the time being. As soon as it is safe to do so, we shall meet again for rehearsals and schedule further concerts. Details will appear here.
In the meantime, we continue to work on our music. We have weekly sessions on Zoom, where we pursue a range of activities. So far, our music director Jo Tomlinson has given us training on vocal technique, sight-singing and performance. We have worked on some of the music by Baltic composers we had planned to perform in June, each of us singing, while muted, and accompanied by Ian Tindale on piano.
Join Whitehall Choir
Sing with one of London's leading amateur choirs
If you think you might be interested in joining Whitehall Choir when we start meeting to rehearse again, please email joinus@whitehallchoir.org, and we will let you know when that is happening.
We rehearse on Tuesdays from 6.30-9pm at St Peter's Eaton Square. More information.