Next Concert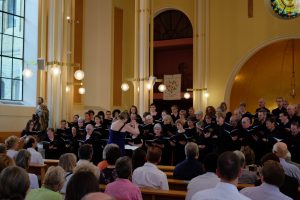 Rachmaninov's Vespers - postponed
We have postponed the performance of Rachmaninov's All-night Vigil, also known as Rachmaninov's Vespers, which had been planned for 26 March. When we have a new date, it will appear here.
If you had already bought tickets for the concert, we will be contacting you about a refund.
Join Whitehall Choir
Sing with one of London's leading amateur choirs
If you think you might be interested in joining Whitehall Choir, come to a rehearsal at the beginning of term, normally in January, April or September. Our first rehearsal of next term, will be on Tuesday, 21 April.
Rehearsals run from 6.30-9pm, and it's always a good idea to arrive early to get your music and find the best place to sit. If you let us know you are planning to come (please email joinus@whitehallchoir.org), we will be sure to have music ready for you to borrow. We hope to see you and look forward to welcoming new members!