Next Concert
Handel's Messiah - 28 November, St John's Smith Square
On Thursday, 28 November, the Choir will be singing Handel's Messiah at St John's Smith Square, accompanied by the London Baroque Sinfonia. The soloists will be Soraya Mafi (soprano), Anna Harvey (mezzo-soprano), Nick Pritchard (tenor) and Edward Grint (bass-baritone).
Join Whitehall Choir
Sing with one of London's leading amateur choirs
If you think you might be interested in joining Whitehall Choir, come to a rehearsal at the beginning of term, normally in January, April or September. Next term starts on Tuesday, 3 September. Or come to the our second rehearsal,  which will be a Come and Sing  on Saturday, 7 September in the Church of the Holy Spirit in Clapham. Rehearsals run from 6.30-9pm, and it's always a good idea to arrive early to get your music and find the best place to sit. If you let us know you are planning to come (please email joinus@whitehallchoir.org), we will be sure to have music ready for you to borrow. We hope to see you and look forward to welcoming new members!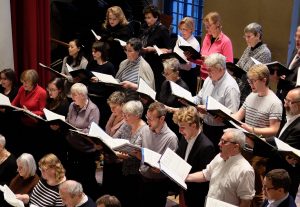 Latest News
Come and Sing Handel's Messiah on 7 September
The Choir invites you to join us for a choral workshop on Handel's Messiah on Saturday, 7 September at the Church of the Holy Spirit in Narbonne Avenue, SW4 9JU.
Tickets cost £20 and are available on the day or through Eventbrite.