About Whitehall Choir
The Whitehall Choir is one of London's leading amateur choirs. It has a varied repertoire including challenging unaccompanied pieces as well as larger choral works, and looks to present a selection of more rarely performed pieces alongside favourite classics. The Choir performs regularly at major central London concert venues, alongside professional orchestras and soloists, and has an extensive repertoire from the Renaissance to the twenty-first century. There is a list of our recent concerts here.
Joanna Tomlinson – Musical Director
Joanna Tomlinson became Music Director of the Whitehall Choir in September 2017, taking over from Paul Spicer.
In addition to her role with the Whitehall Choir, Joanna is the Principal Conductor of the National Youth Choir of Great Britain Girls' Choir, and Music Director of Constanza Chorus. She has recently stepped down as Artistic Director of Farnham Youth Choir, with whom she won two gold medals at the European Choir Games in 2019. She is also on the tutor panel for the Association of British Choral Directors. With Constanza Chorus she has conducted the London Mozart Players and the Orchestra of the Age of Enlightenment at Cadogan Hall.
In demand as a workshop leader, workshops have included sessions for UK Choir Festival, ABCD, London Choral Conducting Masterclasses, and the Gabrieli Consort "Roar" and Philharmonia Orchestra education schemes. She was chorus-master for the Glyndebourne Youth Chorus and a woman's chorus in Eye to Eye by Howard Skempton and Sheila Hill as part of Brighton Festival 2019.
Joanna has studied conducting with Neil Ferris and Peter Hanke, and at the Sherborne Summer School under George Hurst. She has participated in masterclasses with Paul Brough, Patrick Russill, Peter Broadbent, Michael Reif and John Dickson. She studied singing at the Royal College of Music, where she gained the post-graduate diploma in singing with Distinction. She has appeared as soprano soloist in much of the core oratorio repertoire. As a choral singer, Joanna has worked with BBC Singers, Philharmonia Voices, Britten Sinfonia Voices, London Voices, Gabrieli Consort and Sonoro.
Joanna teaches singing and conducting. She has taught at Trinity Laban Junior Department and Royal College of Music Junior Department and worked as vocal coach to choirs including Epiphoni Choir and the Polish National Youth Choir. She has worked as an adjudicator, including for the Leith Hill Festival.
Visit Joanna Tomlinson's website
Ian Tindale – Accompanist
British pianist Ian Tindale has performed across London, the UK and Europe. Recent engagements have included song recitals at the Oxford Lieder Festival, Buxton Festival, and Petworth Festival, and he has performed with artists such as Ailish Tynan, Gemma Summerfield, Anna Harvey, Robert Murray and Jess Dandy.
Following studies at Selwyn College, Cambridge and the Royal College of Music, London, Ian was awarded the Pianist's Prize in the Wigmore Hall/Kohn Foundation Song Competition in 2017, and he has been the recipient of accompaniment prizes at the Kathleen Ferrier Awards, Royal Overseas League Music Competition and the Gerald Moore Award. Ian is a Britten Pears Young Artist and a Samling Artist. Concert highlights have included the Samling Showcase at the Wigmore Hall in both 2016 and 2017, a recital in the Leeds Lieder Festival with tenor Nick Pritchard including the world premiere of Daniel Kidane's Songs of Illumination, and collaborations with regular duo partner and soprano Harriet Burns, the Albion Quartet and flautist Adam Walker in a series of concerts celebrating the music of Dvořák at the Ryedale Festival. In the 2018-19 season Ian performed with baritone and ECHO Rising Star Josep-Ramon Olivé in recitals across Europe including Amsterdam's Concertgebouw and Palau de la Música in Barcelona, as well as a recital at Wigmore Hall with Soraya Mafi and a recital at the Lewes Festival of Song with James Newby. Most recently, Ian appeared with Harriet Burns in the final recital of the 2020 Oxford Lieder Festival, and he has been performing and recording for English Touring Opera as part of their 'Lyric Solitude' programme of Britten, Tippett and Shostakovich.
Tours
In Spring 2016, the Choir went on tour to Vienna, performing in the Votive Church in Vienna, and in the town of Krems.
Over the years, the Choir has made a number of other visits both abroad and in the UK including to Toulouse, France and to Riga, Latvia.
Other Musical Activities
Special events
Over the past few years, the Choir has recorded three CDs, one of rarely heard Christmas music, one of Bruckner's Mass in E Minor and Paul Spicer's The Deciduous Cross, and a third in 2014 of music suitable for passiontide to Ascension. Read more
Other performances and workshops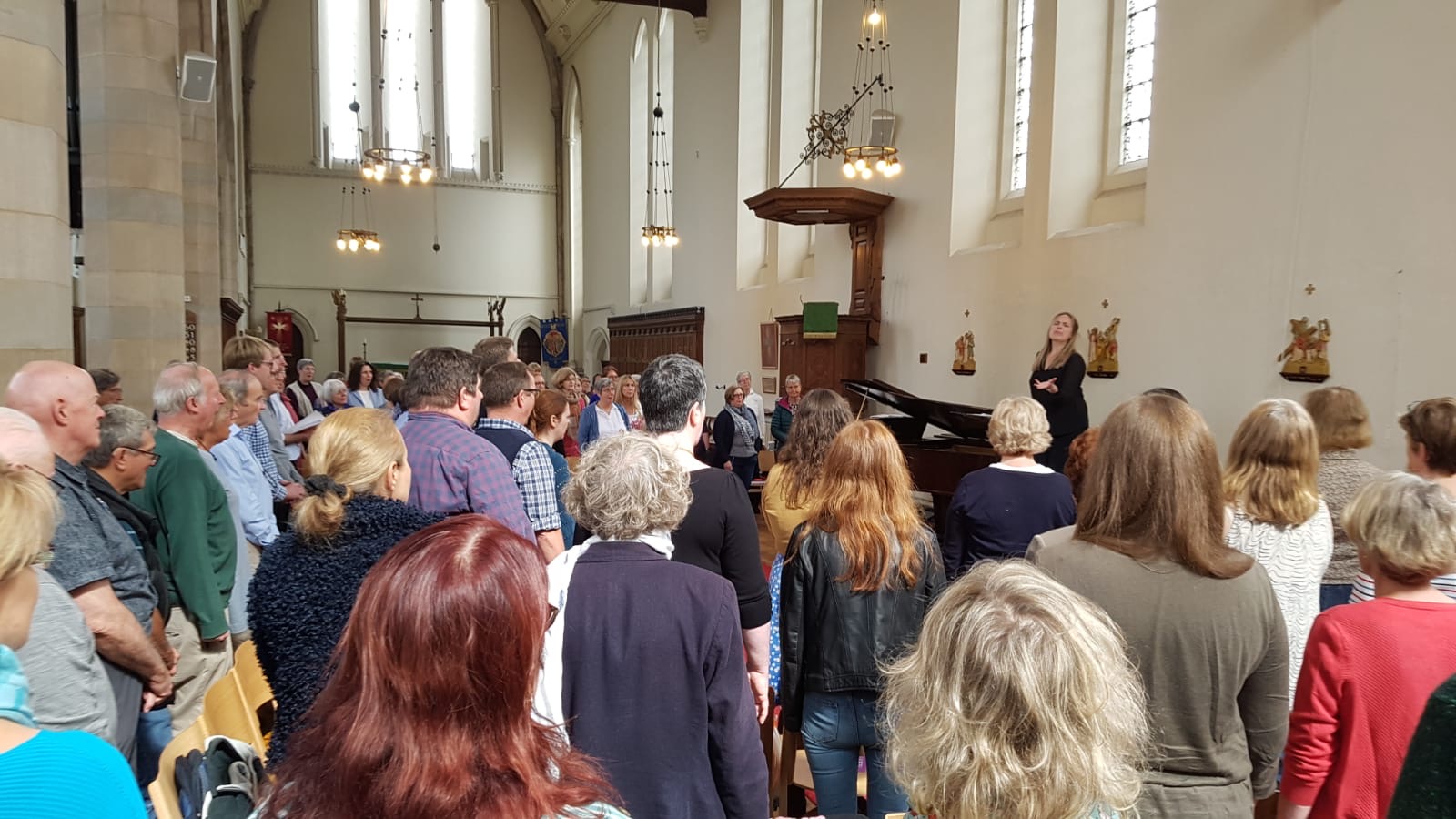 Since November 2006, the Choir has hosted Come & Sing events, originally and most latterly at the Church of the Holy Spirit, Narbonne Ave, Clapham, SW4. Recent works have included Mozart's Requiem and Handel's Messiah.
In addition to these informal events, the Choir organises day-long workshops, which provide an opportunity both to work on vocal technique and to enjoy some time together over lunch.
Choir Archive
Anyone interested in the history of the Choir can read more about it in the archive.